Personal or business account, Twitter stays one of the most important social channels. You can easily schedule tweets with Planly. You can also schedule fist comment on Twitter with Planly.
Planly lets you schedule personal and business accounts. Twitter scheduling is available in free and premium plans. Planly lets you:
schedule photos and videos to Twitter
schedule tweets without media
schedule multiple photo and videos on Twitter
schedule to multiple accounts including Instagram, TikTok, Facebook, Pinterest, Google Business Profile, and LinkedIn
schedule the first comment on Twitter
How to schedule a tweet with Planly?
Choose a team that your Twitter account belongs
Select media from the side Media Library and drag it to the date you want to schedule to. Or, click on the + (plus) icon on the date of your calendar and then click on + (plus) icon to choose a media under the media placeholder. You can schedule a tweet without media with Planly.
If you want to change the media click x to remove and add new media
Select a Twitter channel you want to schedule to
Add Twitter captions
Add the first comment if you want
Choose the time and date
Click Schedule to be published or Draft to come back later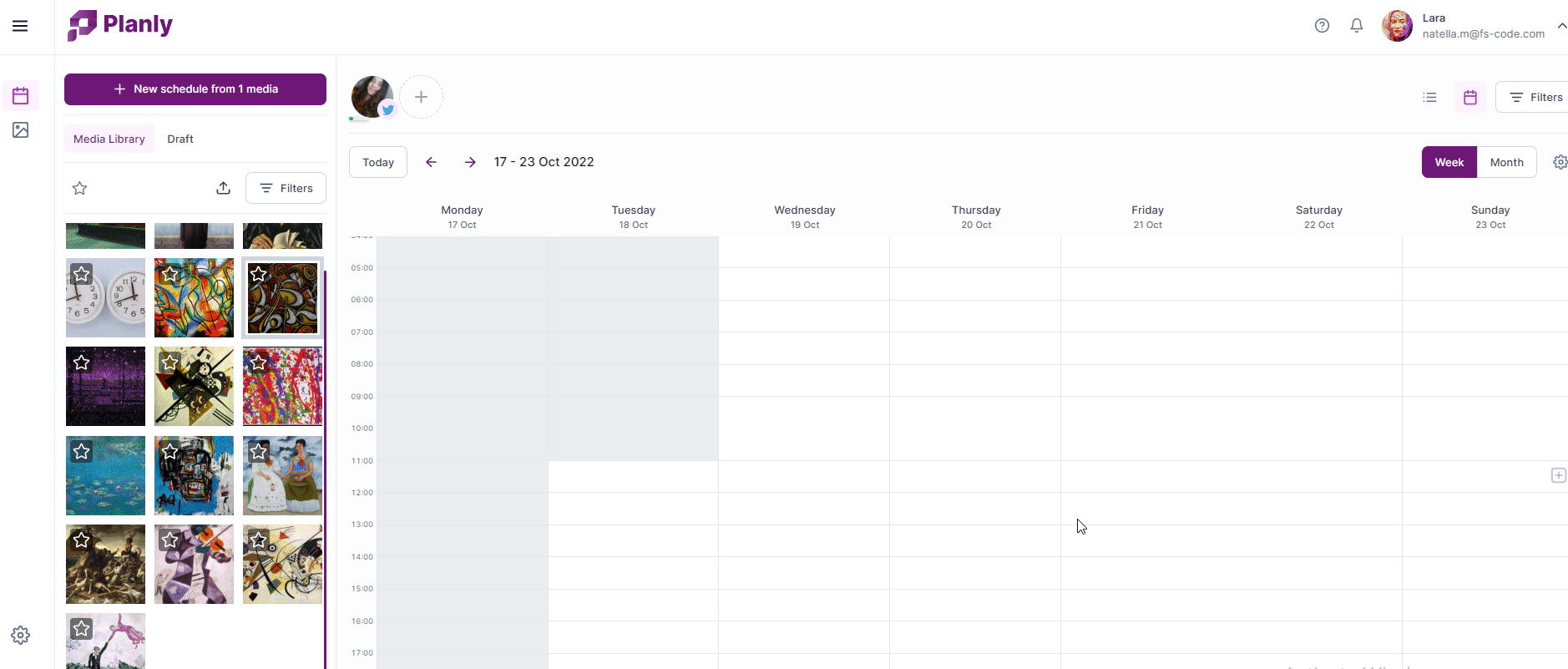 How to schedule carousel posts on Twitter?
You can schedule multi-photo and videos to Twitter personal and business profiles. Twitter multi-photo and video scheduling is only available in Pro and Guru plans.
Note: Due to Twitter limits, you can add up to 4 images or videos for Twitter multi-photo scheduling.
To schedule multi-photo and video to Twitter:
Choose the Twitter accounts you want to schedule a carousel post
Choose media from side Media Library and drag them to the date on the calendar. Or, click on the + (plus) icon on the date of your calendar and then click the + (plus) icon to add media under the media holder tab.
Add Twitter captions
Write first comment to get more engagement
Choose the time and date
Click Schedule to be published or Draft to come back later