You can upgrade your Instagram marketing by scheduling your posts. Planly lets you auto publish photos, videos, multiple multiple-photo and video, reels, stories. You won't receive a mobile notification to publish your posts.
You can auto publish to Instagram personal, creator, and business accounts with Planly. Also, you can also
Schedule the first comment on Instagram
Pin posts while scheduling them
Planly allows you to use these while scheduling Instagram posts:
Planly Instagram scheduling is available in free and premium pricing plans
You can see, edit, or delete a scheduled Instagram posts
You can bulk schedule Instagram posts to other social networks like TikTok, Twitter, Facebook, Pinterest, Google Business Profile, and LinkedIn
You can schedule videos up to 10 minutes
How to schedule a post to Instagram with Planly?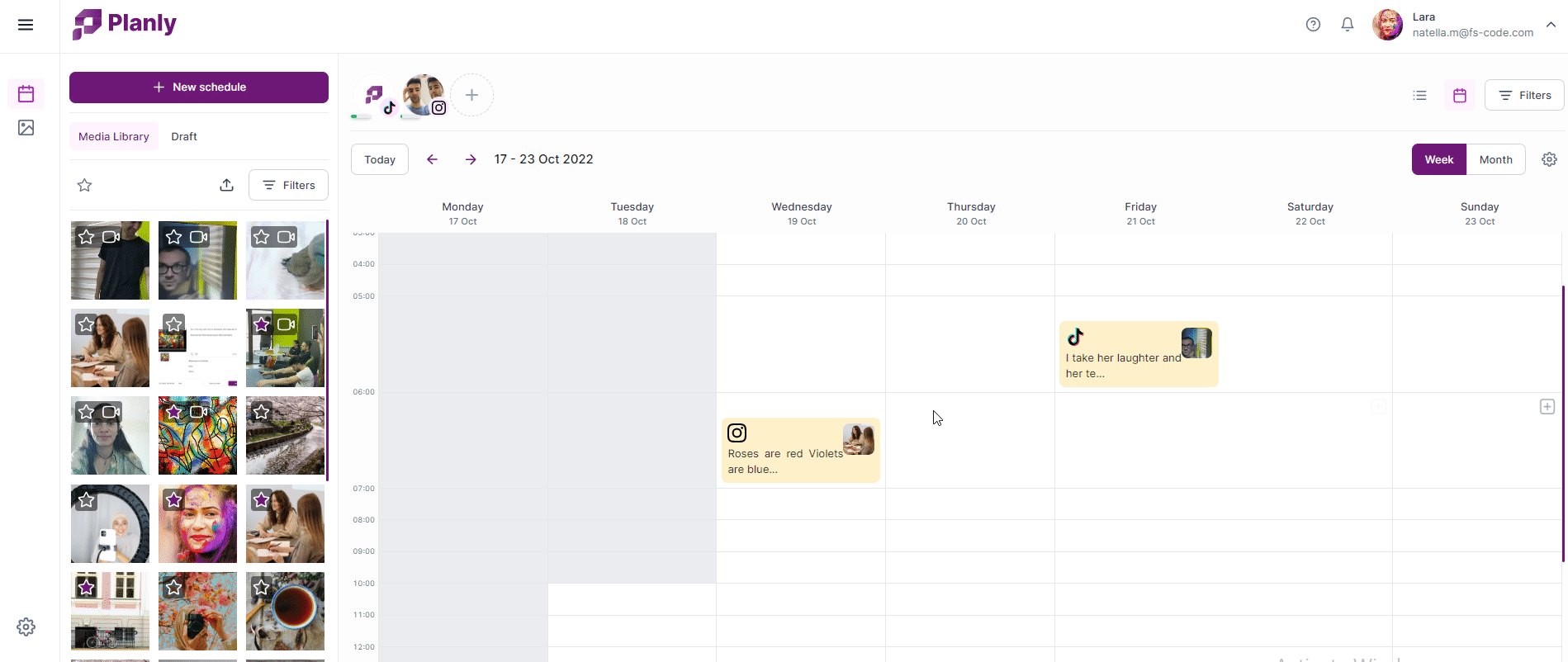 Choose a team that your Instagram account that belongs
Select media from the side Media Library and drag it to the date you want to schedule to. Or, click on the + (plus) icon on the date of your calendar and then click on + (plus) icon to choose a media under the media placeholder.
If you want to change the media click x to remove and add new media
Select the Instagram channel you want to schedule to
Add Instagram captions
Enable the first comment and pin posting to increase engagement on the Instagram post
Choose the time and date
Click Schedule to be publishedor Draft to come back later
How to schedule carousel posts on Instagram?
Planly lets you schedule multi-photo and video to Instagram personal, creator, and business profiles. Instagram carousel posts will be auto published at the time you set on the calendar without a mobile notification.
Note: Carousel scheduling is only available in Pro and Guru plans.
You can include up to 10 images or videos for Instagram carousel scheduling.
To schedule Instagram carousels
Choose the Instagram accounts you want to schedule to carousel post
Choose media from side Media Library and drag them to the date on the calendar. Or, click on the + (plus) icon on the date of your calendar and then click the + (plus) icon to add media under the media holder tab.
Add Instagram caption
Enable the first comment and pin posting to increase engagement on the Instagram post
Choose the time and date
Click Schedule to be publishedor Draft to come back later