You can add or remove social channels to Planly based on your Planly subscription account. In order to add or remove a social channel, you have to be the Account owner on Planly.
Social channels are grouped and organized in Teams. Teams help you easily manage social channels by adding your team members.
A social channel can only exist in a single Team. Once you add an existing social channel to a new team, it will be automatically removed from the previous team.
Adding social channels to Planly
When adding a social channel to Planly, make sure you are the Account owner of your Planly account. There are multiple ways to connect social channels to your Planly account.
Click + icon at the top of the Calendar tab. This is the easiest way to connect social channels with Planly.

When you first create a Planly account, you will be automatically adding social channels to the default My Team (MT) team.
2. Add a social channel from the Settings menu
In order to add a social channel you need to:
Go to Settings in the left-sidebarClick on the Team tab
Click on the edit icon on the right side of the screen
Click on the Social channels tab on the Teams section
Click the Add social channel button.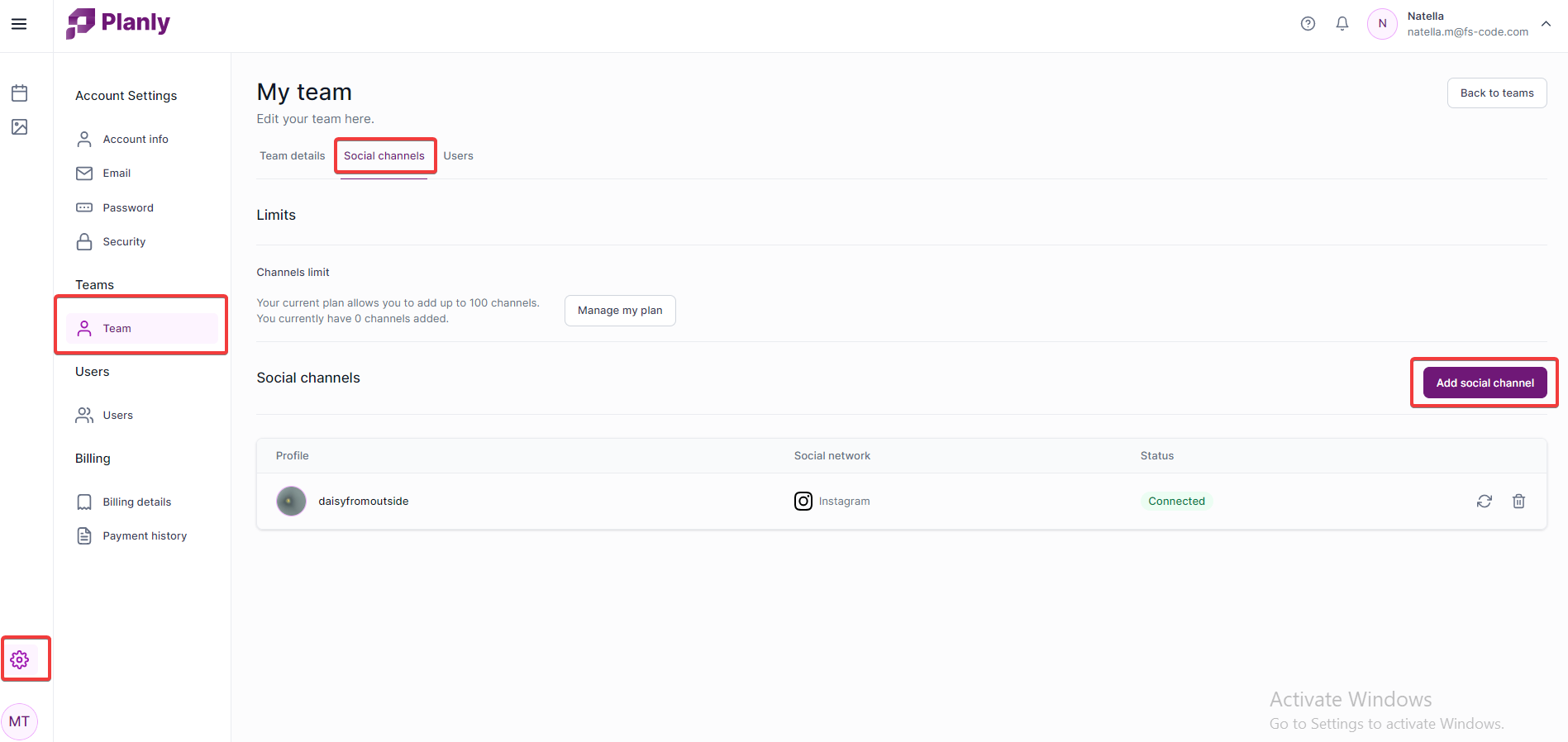 Again, social channels here will be automatically added to the My Team team. You can change the team name and members by editing.
How to add Instagram to Planly?
When you click Instagram to Planly, you will be asked to authorize your Instagram account with your login & password details.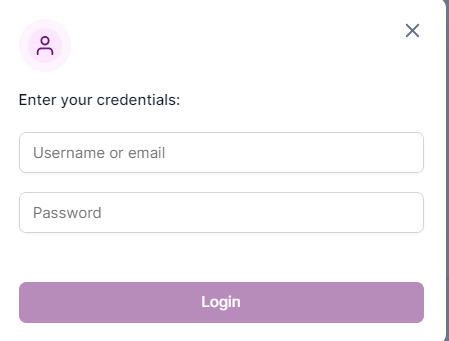 How to add TikTok to Planly?
There are 2 options to add TikTok to Planly.
QR Code
With QR Code method, you authorize TikTok account via TikTok QR login.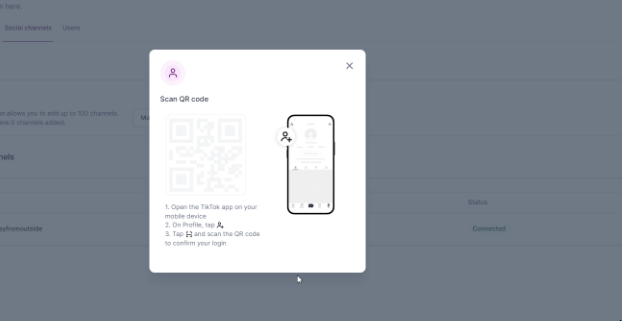 2. Extention method
In this method, you are asked to log in to your TikTok account from the top-left corner of the screen. You can connect a TikTok account that is open in your browser or log in to another account.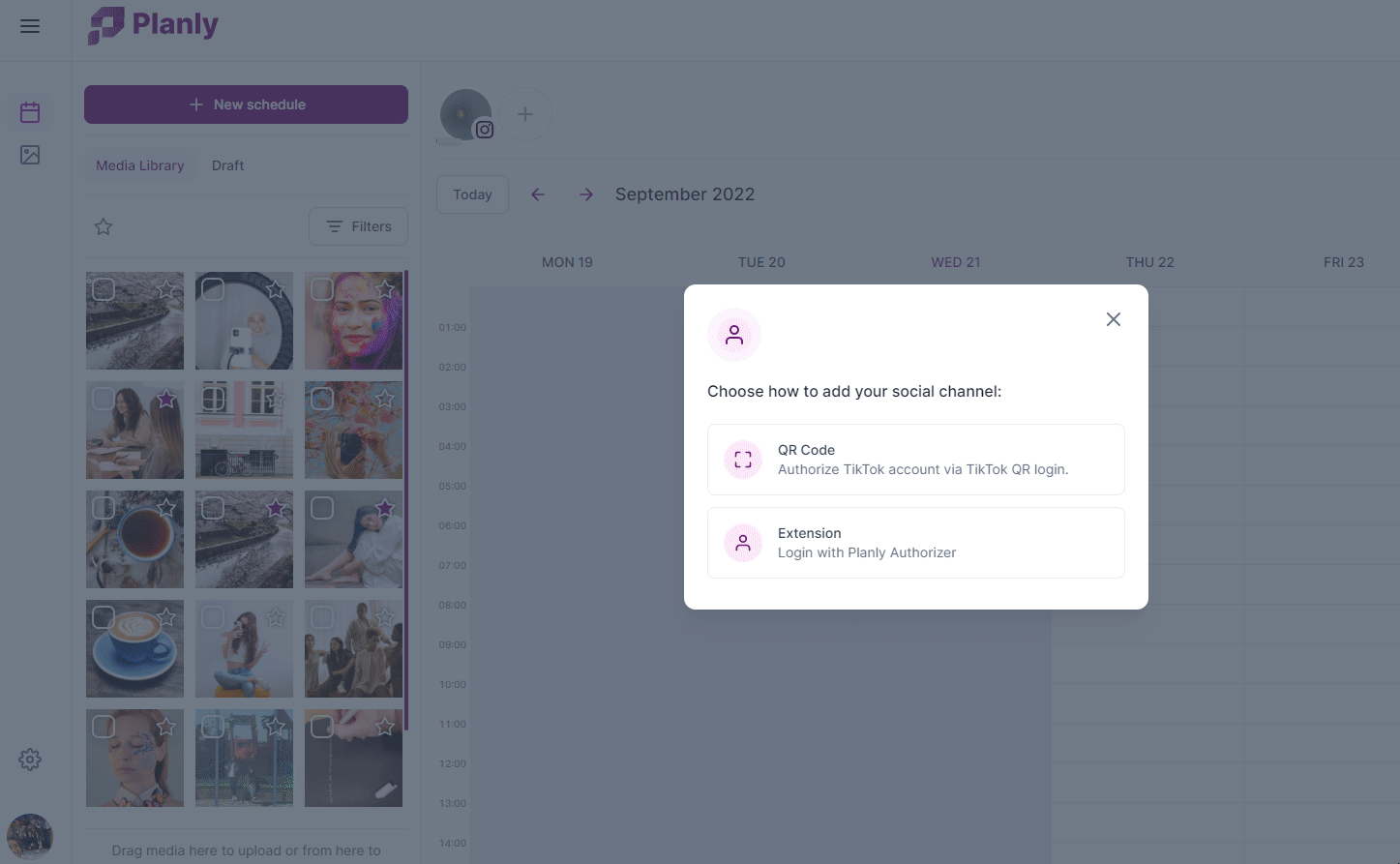 How to remove a social channel from Planly?
Go to the Settings tab in the left side bar.
Click on the Team section under the Teams and click edit button
In the Social channels tabs, click the bin icon and then confirm the removal.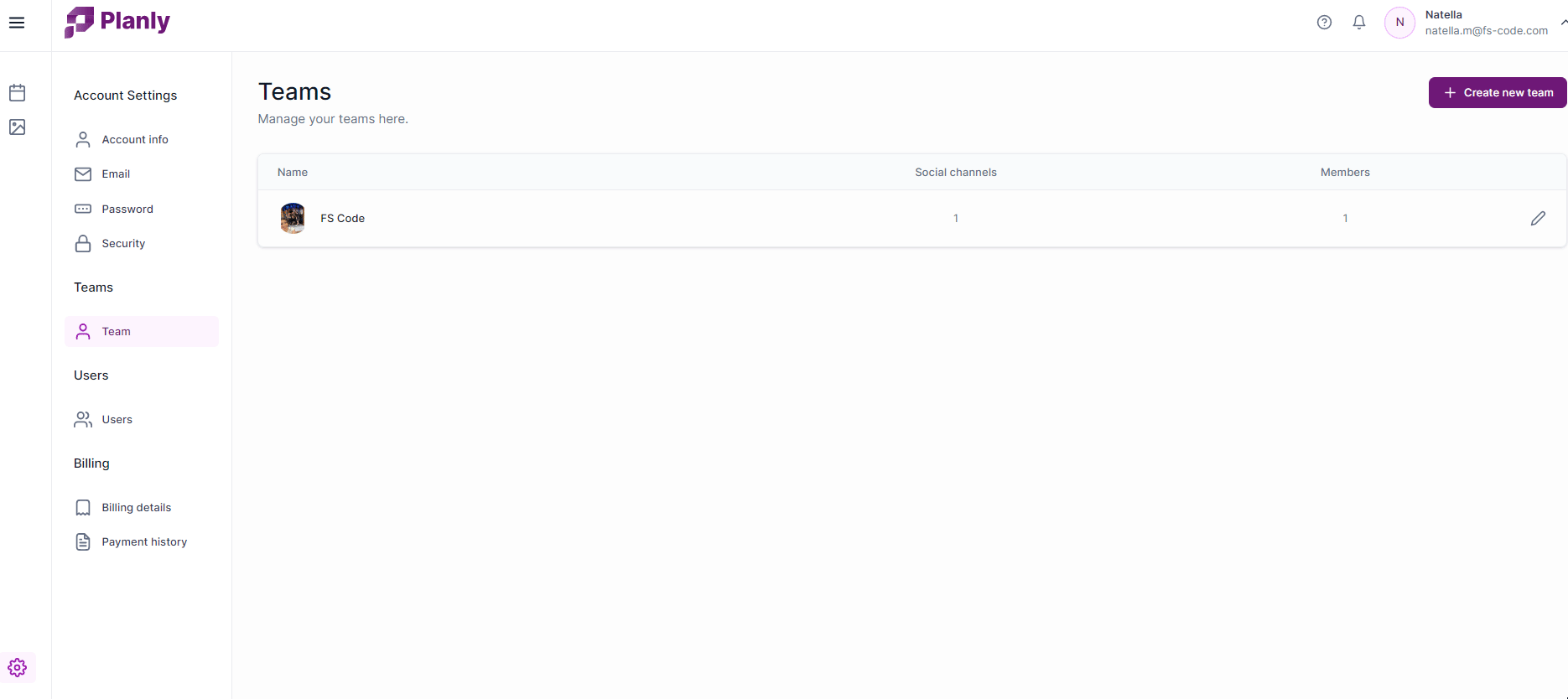 Note: Removing a social channel will also remove the scheduled post for that social channel.
How to refresh a social channel?
When you connection expires or you need to re-authorize your account, you need to refresh your social channels. It is also important when you change your social channel details such as profile image or name on the social network those details may still stay unchanged in Planly. In order to let your social channels seem the same, you need to Refresh those social networks in Planly.
Go to Settings and click Edit next to the Team you will refresh the page
Go to Social channels and click Refresh next to the social channel you want to refresh